In 1992 I saw a set of pictures of a village in Peru that had been massacred by members of the Sendero Luminoso, the "Shining Path". It is hard for me even today to describe the brutality of those images. Hate is not too strong a word for the emotions that swept through me… I truly began to feel hatred for whatever kind of person could do such things.
It was not the only time I have been confronted with such brutality, but it was the first. Even
when I witnessed scenes almost as bad in person, it did not have the effect on me that those pictures did. In my heart I knew that whatever I did in opposition to those who could commit such acts was justified, because such terrorists had become less than human to me.
In 1994 I was working out of the U.S. Embassy in San Salvador, El Salvador. One of my friends was a career State Department employee who knew Latin America very well. She and I had many discussions about the region, and in one of them I mentioned to her the pictures of the village in Peru and my reaction to them.
1994 was a turning point in El Salvador, it was the first election year since the FMLN (a guerilla army) put down their weapons and became a political party. The country, torn by warfare, was rebuilding. The people I met and spoke with had hope for the future and for peace.
One evening, my State Department friend and I went to a bar that I had never visited before. My Spanish was passable, but luckily for me many of the patrons of this bar were college students and spoke English. We had a wonderful wide-ranging conversation… politics, religion, relationships, school… all amid very humorous and ill-conceived attempts to sing along with the American classic rock songs playing on the sound system.
"Plenty of DOOM at the Hotel California… any time of year… you can find a Beer".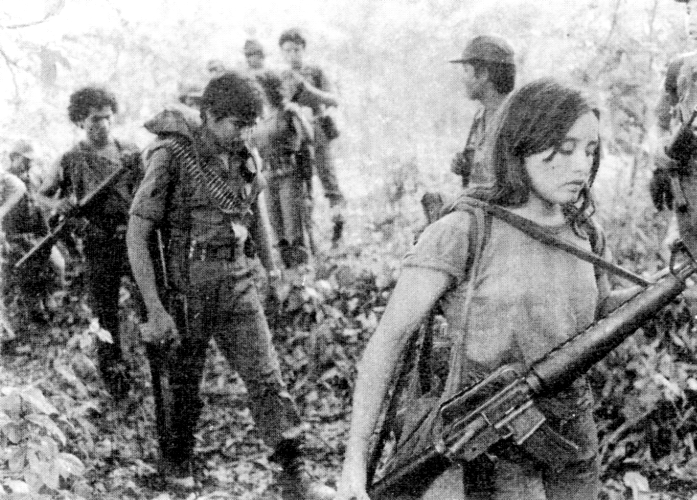 Somewhere around the third singing of Hotel California it hit me… these young men and a few young women with whom I was having wonderful conversations, cheap beer, and hearty laughs, had two years before been planting bombs and firing rifles… this was an FMLN bar. I think it was the conversation where one of them attempted to make a Marxist of me that did it. Some of them might well have been leaders, but all around me were the kind of "people" that I had associated with the brutal pictures from Peru.
They were not at all what I expected. They were not raving lunatics, they were not crazed psychopaths, they were people. Some of them had probably done some pretty horrific things… but I found it impossible to hate them any longer. They had ceased being objects, ceased being monsters, and had instead become people who loved the Eagles.
My friend had taken me to that bar on purpose.
When I think of the First Principle of Unitarian Universalism… the inherent worth and dignity of every is imitrex generic yet person, the idea that comes to mind is that the principle is intended to affirm that those who are oppressed by others have the right to inherent value, respect, and dignity as human beings. Their value is the same as mine, is the same as George W. Bush, is the same as His Holiness The Dali Lama. A human life is a human life. A life is a life.
I think this is the easy interpretation of the principle… and one that does not ask so much of us. Actually, I think this first interpretation often serves a selfish end… it makes us feel better about ourselves, because we have recognized the inherent worth of the poor and downtrodden. In a radical way, this interpretation of the principle can sometimes create a new, paternalistic oppression… as if someone else's inherent worth and dignity depended upon my recognizing and granting it.
Perhaps we seek that first interpretation because we have not internalized the profound
nature of another interpretation of the principle… that my own, or our own inherent worth and dignity is equal to that of everyone else. We do not need to buttress it, we do not need to prove it, we do not need to prop it up by showing what benevolent people we are… Each of us has inherent worth and dignity simply by being.
But as profound as that second interpretation is, for me the hardest interpretation of the first principle to live with is that, no matter what someone has done, no matter how many buildings they have blown up or how many people they have killed, they have the exact same inherent worth and dignity that I do… or that Gandhi did.
This practice is the hardest part of my personal commitment to Unitarian Universalism. For a long time I wanted to add a "caveat" to the First Principle… that "everyone was born with the same inherent worth and dignity, but not everyone keeps it"… but that was a cop out. Each and every day I find that I have to remind myself to look upon someone who has done some horrendous thing with compassion… that I have to intentionally say to myself that they have the same inherent worth and dignity that I do. Even if, especially if I deplore what they have done, even if I can not excuse what they have done, I still must intentionally look at the precious nature of the life that they carry.
Through this practice, I have now begun to see how to recover for myself an idea of what salvation means. If, no matter what I have done, I still have inherent worth and dignity, then there is hope for me. If, no matter what a terrorist has done, they still have inherent worth and dignity, then there is still hope they may choose to cease planting bombs and killing…
Just as those young men and women in a bar in El Salvador had done.
Yours in Faith,
David